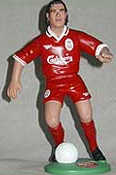 Patrik Berger could be Peter Reid's first Leeds-signing, or he could be another canny-acquisition for Harry Redknapp?
Czech newspaper Sport are edging their bets on the destiny of the Liverpool-winger.
"We're waiting for final negotiations with bosses of a Premiership club. But we've agreed we won't say which one just yet." Berger's agent said on Thursday.
The Czech winger is available on a free-transfer after 7-years at Anfield.
Czech newspaper Sport claim the player will be heading to either Leeds or Portsmouth for the start of next season.