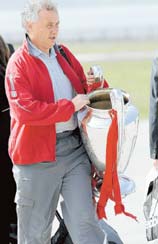 Rick Parry and DIC both expressed their desire to secure a future for Liverpool Football Club, but only in a way that would respect the club's historic traditions and values.
Speaking to the reds magazine Parry said:
"We are focused on success but we want a club that will not be ludicrously profligate."
"It is not just about throwing money at a challenge, that is not a sound long-term strategy.
"It is definitely not about being a rich man's plaything. It is about taking Liverpool FC to the next level and securing the future of the club for the next hundred years.
"At the same time it is choosing the right partner, it is paramount to ensure that such a partner understands the values and heritage of the club and respects them.
"The most important aspect of our heritage is success and winning trophies."
"We always look forward with a focus on the challenges ahead, not least the new stadium and the need to get on with that rapidly."
"Things are not over yet, despite suggestions to the contrary saying it is a done deal.
"Detailed negotiations continue, and we are clearly very excited to have reached this stage because discussions have been going on for a long time."
Contrary to some reports in this weeks media DIC responded by also insisting a new stadium would be one of their most pressing priorities.
"We are very much in agreement with Rick Parry's remarks," said a member of the Dubai Consortium.
"If we do a deal we would aim to have a long-term relationship with Liverpool. We will get the stadium built and help the club move on to the next level."