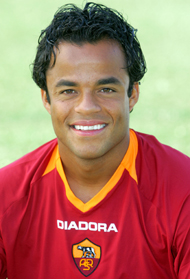 According to Alessandro Mancini's agent, Rafa Benitez has been in touch about the Brazilian right sided player.

Gilmar Veloz, the players agent, was speaking to Italian radio:
"There has been interest from Liverpool and I have spoken with Benitez.

"I replied that they must talk with Roma, but if the Giallorossi were to sell him I'd have no trouble striking a deal."
The comments should be treated with some caution. The player's contract expires in 2009 and discussions about a contract extension are on-going. His agent also said:
"On Monday I'll be meeting with Roma sporting director Daniele Prade to talk about contracts, I don't know what their offer is yet."

"Does Mancini want to stay? Surely if he didn't he would have already left."
Whether his agent is using Liverpool's interest as a bargaining tool for a better Roma contract, or if Liverpool have genuine interest should become clearer next week.
Mancini is an incredibly versatile player – capable of playing anywhere on the right wing – defence, midfield or even attack – scoring 32 goals in 123 games for AS Roma.