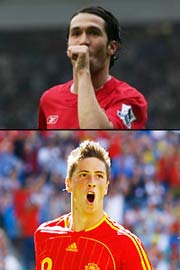 Luis Garcia is currently in Madrid where he is expected to complete a medical for Atletico, whilst Fernando Torres has cut short his holiday to complete his Liverpool move.
Liverpool look set to pay the highest transfer fee ever for a Spanish player in football history plus obliterating Liverpool's previous record transfer of £14.1 million spent on Djibril Cisse from Auxerre. Fernando Torres was due to remain on holiday until next week, and it is expected that following the conclusion of the deal which could occur tomorrow, he will return to his holiday – the Spanish players having only finished their domestic season in the last couple of weeks.
Figures for the Luis Garcia element of the transfer have been valued at between £4 and £7 million in different media reports. The two deals will be done separately with Torres expected to cost Liverpool £26.5 million.
23 year old Fernando Torres has been at Atletico for over half of his life, joining aged 11 and is club captain. Prising their 'Gerrard' away has been no easy task – but for the critics who suggested that Benitez was unhappy – to the doom-mongerers who suggested that there was NO money to spend then the reds have dipped in to their pockets to some extent, although Liverpool have recouped money through some significant player sales.
Luis Garcia has been a great talent for Liverpool, certainly in European competition, but it now looks like Liverpool really have taken a step up in their footballing ambition. Now that Rafa looks set to secure his 'first choice target' for possibly the first time in his Anfield career – he will feel an extra sense of pressure on his shoulders.