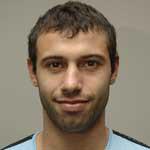 Just as the transfer window was finally getting ready to slam shut, Liverpool look to have completed the signing of Javier Mascherano, the Argentinian World Cup star, who has been rotting away out of sight at Premiership strugglers West Ham United.
The reds will complete an 18 month loan deal in the coming days for Mascherano from the Hammers after FIFA finally relented and relaxed their rule insisting a player could not play for more than two clubs in a season. The Argentine domestic season overlapped the English Premiership back in August 2006. As reported earlier this month, the player actually had his medical with Liverpool over 3 weeks ago.
Rafa Benitez had this to say, and is hopeful that he has the power to turn Mascherano (who was a star of the Argentinian team in the 2006 World Cup) in to a great Premiership player:
"We have an agreement to take him on loan for 18 months then we have an option to sign him permanently.
"He is a top class player and the only question is whether he can play to his level in England. But I know he can play a lot better than he did at West Ham."
Benitez pointed to a number of factors in his favour:
"West Ham are a fantastic club but maybe it wasn't the right club for him," he said.
"Maybe Liverpool can be a better option for him because we can speak in Spanish to him and we play a different style of football."
The signing is widely predicted to be Liverpool's only signing in the January transfer window which could impact significantly on the first team. However Liverpool are now out of both domestic cup competitions, have 14 critical Premiership games left, a two-legged affair against Barcelona, and Rafa is notorious for not playing first team squad players in reserve fixtures.
So….will Mascherano get any more football at Liverpool than he did at West Ham (where he played 5 times in 3 months)?