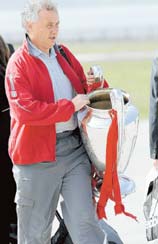 According to Liverpool Chief Exec. Rick Parry, the proposed takeover by Dubai Investment Capital of England's most succesful football club, could be completed within days to weeks.
Speaking on BBC Radio's Sportsweek Rick Parry said:
"A huge amount of work has been going on, we'll have something to say soon."
"Yes, the deal is looking positive and yes, I'm confident it will go through. This will take us to the next level.
"But it's not a quick fix, a rich man's plaything. It's a long-term model for success, based around the new stadium."
"Over the past month or so they have had a team of people here, working around the clock," added Parry.
"They have been on a real learning curve because football is slightly different to the other businesses they might be involved in.
"It helps that most of the key people we've been dealing with are Liverpool supporters so they know what we're all about.
"It's now a case of finalising the due diligence and pulling everything together, which we hope will be completed relatively quickly."
Rick also discussed potential transfers for the coming weeks.
"You have to have priorities and ours are to invest in the first team, which we have done with substantial sums in the past three years."
"We may sign players before the transfer widow shuts.
"We are working hard on a few things at the moment and we will reveal everything once it is all sorted out."
Rick also highlighted the fact that manager Rafa Benitez is fully behind Liverpool's future plans.
"In the summer Rafa rejected the chance to move to Real, which was a big, big temptation for him."
"It was all pretty serious. Real is his club, he was there as a player and as a coach too and it would always be an opportunity he would have to consider.
"But he enjoys being at Liverpool and he believed in the direction we are taking and he is passionate about that too." 
You can listen again to this episode online here