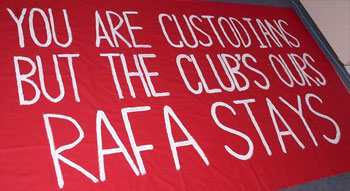 Liverpool FC has never been, and never will be, like any other football club.
The bond between supporters, the players and the head of the club – the team manager – will not be broken. Later today Liverpool will face Porto in a game of epic importance in terms of assisting possible Champions League qualification but more importantly it provides Liverpool fans with the opportunity to stand up for the man who gave us the memories of Istanbul, Cardiff (and even Athens wasn't all that bad).
Benitez was reminded by the board that the Premiership was this years top target – and the reds have started in the best shape in that competition for years.
The current instability at the club is a sad indictment on the new owners – who have only had the club under their wings for less than 9 months. Let's hope they realise that WE want a return to the situation where footballing matters take precedence over all others.
The message is simple to all Liverpool fans at Anfield for tonight's game against Porto.
We are calling on all supporters of Liverpool FC to demonstrate their unconditional support of the Rafael Beneitz this Wednesday. Rafa is far and away the most important figure at Anfield – bar none. Under his guidance the club has appeared in 2 European Cup finals in the little over 3 years that he has been manager. We currently stand well placed in the title race and remain undefeated.
Rafael Benitez also needs the full support of his employers. It is Rafa's job not only to train and coach the players, but also to be proactive and decisive in acquiring new ones. Bill Shankly turned down the Liverpool job in the early 1950s because he was told it would not be his job to sign new players. It was only when he was promised a free reign in the selection of his squad that he agreed to become manager of Liverpool FC. Rafael Benitez deserves similar support from our current owners.
If you want to pledge your support publicly for Rafa Benitez then join us on Wednesday evening at 6:30pm, outside the Sandon pub on Oakfield Road, close to The Kop. If you have any Rafa flags and banners then please bring them along. We then urge you to continue your support of Rafa during this crucial European Cup game by singing and chanting his name . We call on all Liverpool supporters to unite and publicly display their devotion to our manager.
Rafa needs us, and we owe him every ounce of love and support that we can possibly muster.
Remember: Liverpool Football Club exists not to make money – it exists to win trophies and be a source of pride for it's supporters. It serves no other purpose.
Hala Rafa! (RTK Campaign)
The Sandon Pub is on Oakfield Road