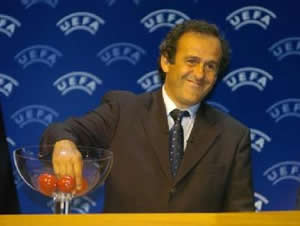 After days of silence from UEFA following on from the potentially disastrous events in Greece, where over 3,000 Liverpool fans with genuine tickets were beaten, tear-gassed and refused entry to the stadium, UEFA have compiled a dossier branding Liverpool fans 'the Worst in Europe'.
The report discussed this morning on Liverpool's Radio City follow on from an interview held yesterday with one of UEFA's top spokesmen. The radio station had been pushing for seven days to get contact with UEFA.
Michel Platini's cronies will hand the dossier to Richard Caborn, Britain's Sports Minister tomorrow and it is a clear counter-attack by UEFA on the many groups of Liverpool fans who are seeking prosecution claims against the ramshackled football organisation based in Brussels.
UEFA cite 25 incidents in recent years involving Liverpool fans and the disappearance of a number of flags at the Champions League final. Some media organisations have obviously really enjoyed this and threw in the word 'European ban' to spice up their newspapers.
If UEFA think that Liverpool supporters are the worst in Europe then they are clearly talking out of their backsides. Over 70,000 fans have travelled across continents for two finals alone in the last three years. The only significant problem was caused by inept security and policing in Greece and a lack of management by UEFA.
UEFA need to focus their attentions on the countries like Italy, where shocking scenes were seen last year between United and Roma, where clubs found guilty of match-rigging are allowed back in to tournaments. Countries like those in Eastern European where racism is widespread.
No football club has a fanbase consisting entirely of saints (apart from Southampton) but if UEFA had not allowed such a ridiculous ticketing allocation that allowed huge counterfeiting operations to be set up, and black market selling then half of these problems wouldn't have occurred.
We look forward to this report tomorrow but Michel Platini and the rest of the goons of UEFA had best be prepared to face the truth of the events in Athens last Wednesday.
Post your opinion below or follow the discussion further in the forum