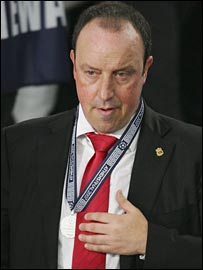 Despite last night's defeat Benitez is looking ahead to the future and additions to his squad.
"Clearly now we have to start thinking about the future.
"We must improve and we will add quality to the squad.
"We have two more games in the Premier League to go and obviously we will try to win them both to give our season a good ending.
"But we will be looking at the squad and preparing for next season. You can see we are closer to the top but we still need three or four new players.
"We need to keep working, our scouting department is certainly doing that. We have two more games and will try to win them and then improve the squad for next season."
Both Fernando Torres and Martin Skrtel today had scans to assess the injuries they picked up against Chelsea last night.