DIC today confirmed that they had made a £400 million offer to the two American chairmen to take control of Liverpool Football Club.
George Gillett is now resigned to losing his stake in the club as mounting fury from the Liverpool fans at the two chairmen have increased in recent months.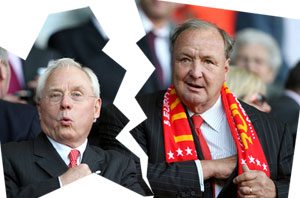 Despite the club now being saddled with a huge amount of debt, work has STILL not begun on the new stadium and Liverpool's net spending on transfers since their arrival has been at a miserly £15 million (all of it paid for by the banks and not Hicks or Gillett). Not only this but Liverpool are now paying £30 million interest annually on the American debt and this is only set to increase. With Champions League football not secured yet for next season – the reds have a ticking time bomb on their hands.
Tom Hicks, foolishly, has suggested in recent days that he is going to attempt to take over Gillett's stake in the club which will no doubt saddle even more debt on to the Anfield giants. But DIC are offering them a way out and we would suggest that they take it.
Some weeks ago DIC had this to say:
"It's no secret that we have been in discussions with the current owners," said DIC chief executive Sameer al-Ansari.
"It's not easy because they are in dreamland about valuations."
Later, suggesting Gillett had come to his senses, al-Ansari confirmed that one of the partners
"had come out of dreamland."
The plot thickens.