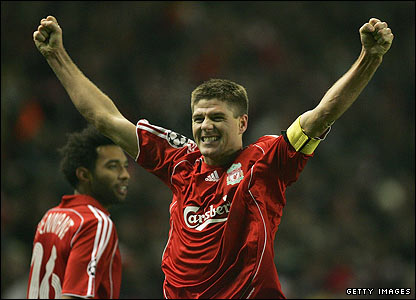 Steven Gerrard could still feature in Liverpool's first competitive clash of the season against Standard Liege on Wednesday evening.
Gerrard suffered a thigh strain away at Valerenga last week and missed the home victory over Lazio on Friday.
Benitez took the late decision to bring Gerrard with him after discussing the injury with the player last night.
"More or less the side that played against Lazio will be the one that plays in the Champions League on Wednesday in Belgium," Rafa said.
"Most of the senior players were involved, this will be the side that plays against Standard Liege.
"The situation has been very difficult for us, we have had a lot of players returning to training late after international games in the summer and now we have players at the Olympics.
"It has given me a chance to see the young players during pre-season, and I am sure that the future of the club is guaranteed.
"I believe we are ready for the Champions League tie, the experienced players are ready. But we know that we have quality from the young players.
"I have not decided whether any more will go out on loan, it depends on whether we sell anyone else. If we do not bring anyone else in, maybe we do not need to loan any of the youngsters."
Damien Plessis and Xabi Alonso are expected to play if Gerrard isn't ready.  Three Liverpool midfielders, Lucas, Mascherano and Babel are all at the Olympic games.