Liverpool may need to beat all three English sides if they are to win this season's Champions League.
The reds were drawn against Arsenal in the round's toughest tie.  Liverpool will play the first leg away with the replay at Anfield a week later.  However, sandwiched between those two games the reds will have a Premiership game, at Arsenal also at the Emirates Stadium.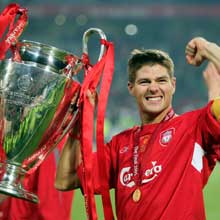 If Liverpool do manage to overcome the Premiership leaders who knocked out AC Milan in the last round then they will face either Chelsea or Fenerbahce in the semi-finals.  A potential semi-final would have the first leg at Anfield.
Manchester United are kept apart from Liverpool but could face the reds in the final.
Rafa Benitez's had this to say about the 3 games against Arsenal in 8 days.
"It was a possibility and now we will see how we can afford these three games," he said.
"The first thing is to think about Arsenal and I think it's important to go one step at a time. Nobody wanted to play an English team – in this case, we could play two English teams.
"But it's not the worst moment for us. We have confidence, we are playing well, we are scoring goals." 
The full draw is as follows:
Champions League quarter-final draw:
Arsenal v Liverpool (First leg 2 Apr/Second leg 8 Apr)
AS Roma v Man Utd (First leg 1 Apr/Second leg 9 Apr)
Schalke 04 v FC Barcelona (First leg 1 Apr/Second leg 9 Apr)
Fenerbahce v Chelsea (First leg 2 Apr/Second leg 8 Apr)
Champions League semi-final draw:
Arsenal/Liverpool v Fenerbahce/Chelsea
Schalke/Barcelona v AS Roma/Man Utd
What are your thoughts on the Champions League draw?