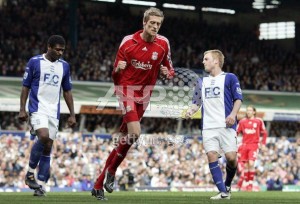 It was always inevitable and tonight, after passing a medical earlier today, Peter Crouch has left Liverpool Football Club to return to Portsmouth in a deal that could be worth an eventual £11 million for the reds.
Liverpool will receive £8.5 million up front for the England striker who has fallen by the wayside at Anfield after the signing of Fernando Torres, the rest of the total will be made up if Portsmouth maintain their Premiership status in the next two seasons.
The 27 year old scored 22 times for the reds in 85 appearances.
Liverpool will feel slightly disappointed with the amount recouped but the player, who cost the reds £7 million back in 2005, only had another 12 months left on his contract.
Good luck Peter back down at Portsmouth.
Liverpool meanwhile will be aiming to complete the signatures of Gareth Barry and potentially Robbie Keane.