Both Tom Hicks and George Gillett's takeover of Liverpool looks set to be one of the shortest in football history unless they find a way to refinance the debt that is due in February.
The entire takeover and recent spending has been funded by one single loan, with the Royal Bank of Scotland, which was used to not only pay the shareholders their blood money last spring – but cleared the reds debt and has been used on some player purchases and on-going costs.
This amount is believed to have swelled to around £350 million, although the reds are likely to be looking at a £135 million turnover this year, due in part to a long Champions League campaign and increased money from Premiership television rights.
Where exactly this money is disappearing to is anyone's guess, as it clearly is not heading back against the reds loan.
The bank want their money back by the end of February, and the loan is currently against both the American owners. It is believed that the owners are desperately trying to push the debt on to the football club – using the assets of the stadiums, the club and effectively the players as security on the loan.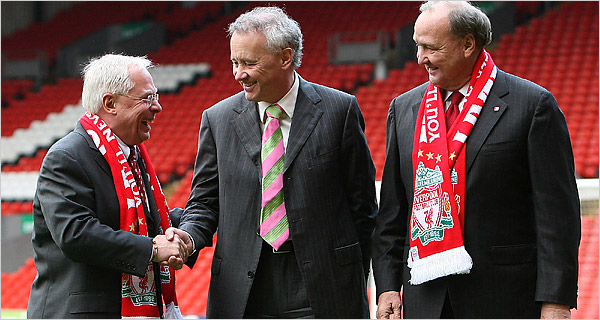 Another option is to go back to DIC, the initial Arabian investment firm who were in the driving seat to purchase Liverpool until Rick Parry (yes him again) decided to 'switch' sides. DIC are known to remove the current CEO of companies and bring in their own – rumours have suggested that the American pair had offered Parry the ability to stay in his job. Make up your own mind.
Some rumours have suggested that DIC could make an offer which would enable both American owners to walk away with £75 million a piece. So much for them 'not being in it for profit' and 'custodians of the club for a long time'.
If there is any hope on the horizon for Liverpool fans in these uncertain times – the possible exit of Rick Parry at some stage soon is possibly the most significant.