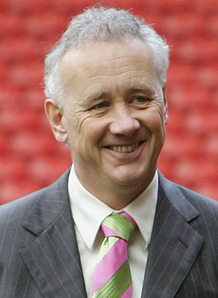 Rick Parry arrived back at Anfield today to read the letter that Tom Hicks had sent him. The contents of which he found out via Sky Sports, and not directly from the Texan who owns half of Liverpool.
He reiterated his dissatisfaction with the way Tom Hicks had gone about his business.
He had this to say to the media before he stepped in to Anfield:
"Well I have not seen the letter. You guys seem to know a lot more about the letter than I do, which says something.
"My family saw it on Sky Sports, so they were delighted.
"This week I shouldn't be the story, the story should be the team.
"It's offensive to the players, the manager, the fans, in the week when we had another great European triumph there's more dirty linen being washed (in public)."
"No individual, certainly not me, is bigger than the club. The club will be fine but once again it shows there's a little bit of a lack of unity at the top. I'm just getting on with the job."
The reds Chief Executive was backed by the other co-owner of the club George Gillett.
"Rick Parry retains our full support.
"Any decision to remove him would need the approval of the full Liverpool board which, it should be remembered, consists of six people – myself, Foster (Gillett's son), David Moores, Rick himself, Tom Hicks and Tom junior.
"We have not seen the document in question and we were not party to it. We are not able to comment on the detail because we have not seen it. But I would reiterate that Rick retains our full support."
The soap opera continues.
Rafa Benitez who was due to give a press conference ahead of the weekend's clash against Blackburn cancelled – a sensible decision in our opinion. It appears that Hicks has used Benitez as the pawn in getting rid of Parry, stating that he wanted Parry to go because he was not helping Benitez enough in the transfer market.
This is highly ironic, as only months ago Hicks warned Rafa to 'concentrate on coaching and training the players' and leave the signings to Rick Parry.
Tom Hicks attempt at throwing his (sizeable) weight around have backfired. He now appears outnumbered on the Liverpool board, and it is entirely possible that the remaining directors will seek to remove Tom Hicks Jnr from the board.