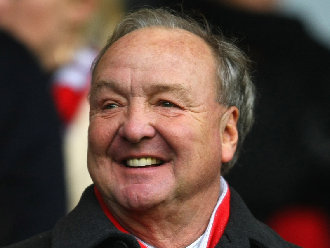 Tom Hicks, the so called 'custodian of Liverpool FC' who continues to embarrass our club via the media, today issued an appeal to Rick Parry to resign from his post as Liverpool Chief Executive.
Hicks, is believed to be furious that Rick Parry made comments suggesting the owners 'sorted it out' last month.
After one of Liverpool's great European triumphs on Tuesday night, Tom Hicks who has already made one mistake in threatening Rafa Benitez, today asked Rick Parry to resign. However, he cannot force the resignation of Mr Parry without his co-owner George Gillett's consent.
The letter from Hicks to Parry arrived at Anfield today through the post and it asked Mr Parry, politely, to resign from his post.
Rick Parry takes a lot of the blame (quite rightly) for allowing these two individuals to take control of our club. However, aware that he cannot be fired without Gillett's say so he has done the right thing and tonight issued a response to Tom Hicks.
"It is my intention to remain focused on the job of serving Liverpool Football Club to the best of my abilities at this very important time of our season."
Tom Hicks, you will never step foot inside our stadium ever again. We never want to see you again. You know nothing of the traditions of our club. Leave, and leave now.