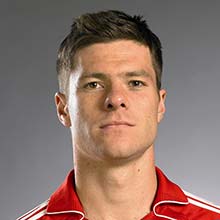 Rafael Benitez today effectively ended Liverpool's interest in this summer's transfer shenanigans that has been something of an embarrassment for Liverpool.

Within almost the same breath Rafa made sure that he backed Liverpool's pass-master Xabi Alonso.
"I have had no word about Arsenal wanting Gareth Barry and that is all I want to say on the subject. Other than that we are working towards improving our squad."
"Likewise there has been nothing more on Xabi Alonso. At the beginning of the summer we were looking at ways of raising money, but now we are happy with Xabi, he is a very good player.
"The offer we had was not good enough so why would we want to sell him?"
Rafa had a meeting with Parry earlier in the week and went on:
"We talked about the players that we have, how to progress, and we both know it is important for the club that we work together."
"We are working really hard, we are moving in the right direction and hopefully we can do something positive in the next few days.
"The talks were positive, we cannot discuss names but we are now both working to improve our squad.
"There was no friction, but some personal problems. Now things are more clear and that is positive. It was a private conversation."
Was that 'personal problems' or possibly 'personnel problems'.
Liverpool take on Middlesbrough tomorrow. With Xabi, and without Barry.