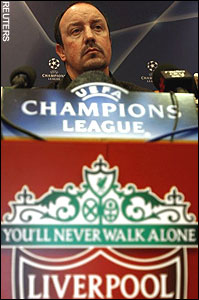 Benitez has speculated more than once in recent weeks about his desire to sign a new long term contract.  His present deal expires at the end of the 2009/10 season.
It appears that the club's Chairman have moved to reassure Rafa that his future lies at Anfield after scheduling meetings for next week with Benitez' agent.
Speaking to the official website Rafa confirmed:
"I received a phone call from Tom Hicks on behalf of George Gillett also.

"They are talking about a meeting with my advisers and a contract extension. This is very positive news."

"We decided to meet in the next week and now my advisers are in contact with them.

"We haven't spoken about the length of the contract but we talked and we all want to find a solution as soon as possible.
Benitez arrived at Anfield in the summer of 2004 and his original deal was till the end of the current season.
He renegotiated his contract, adding an extra year on during 2006.
Rafa continued,
"For me, it's easy. I want to stay here – I am where I want to be. It's very simple.

"My family and I know how good the fans have been with us. The club is going forward and we have the new stadium project. There are a lot of positive things.

"I want to stay here for a long time. Clearly I would like to be here when the new stadium opens. The other day I was joking that if they offered me a 20-year contract I'd be really pleased."
Now, I wonder when they will get round to re-negotiating Rick Parry's contract which expires in January?