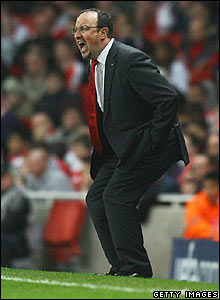 Rafa Benitez has taken advantage of Liverpool's early season good form and stated publicly that he is seeking a new Anfield contract.
Despite the press trying to muddier the water by suggesting he was wanted by Juventus, the Turin giants have today backed their present manager Claudio Ranieri.
Meanwhile, back at Anfield Benitez had this to say:
"I would prefer to have a long-term contract and then you can have a long-term plan," said Benitez. "All managers need time but it is more difficult to get that now.
"All managers are in the same situation. The problem in England now is that everyone wants to be successful too soon. That is the part of the game I don't like.
"But I'm really pleased to be here and I have two more years left on my contract, so right now I'm just trying to do my job as best I can. I've always said I want to stay here for many years." 
Should the owners be offering Benitez a contract extension? More to the point – will they?