Rick Parry, the shrinking violet, has finally moved out of his comfort zone and suggested that the two Liverpool owners need to sort things out.
Parry, the reds Chief Executive, has been mocked as Tom Hicks puppet, but has spoken up following the interview from George Gillett over in North America on Friday.  In that interview Gillett said that due to the Liverpool fans displeasure selling even one of his shares to Tom Hicks had become 'untenable'.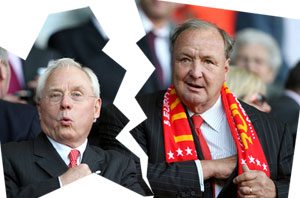 Parry today said:
"My plea is that something happens this week.
"There is a need for a degree of urgency but it is urgent to get it right, not urgent to come up with the wrong solution.
"To move onwards and upwards we need a resolution but I don't think this is going to have a direct bearing on the players, that is pretty unlikely.
"It is certainly not conducive to long-term planning and managing the club.
"Over time, if we fail to deliver and fail to perform, that is when star players become dissatisfied but that is not an immediate fear from where I sit."
Rick was speaking to BBC's Radio 5 Live Sportsweek programme, practically the only time Liverpool fans get to hear the 'boss' of the club speak.
"I think George was pretty clear in stating the relationship between the two of them had broken down and, as a result of that, an alternative solution needs to be found.
"There is no question that to succeed you need unity at the top, unity at the club and everyone pulling in the same direction.
"Without that it is extremely difficult to progress and it is clear from what George said the unity is not there.
"It looks really difficult (to patch things up) – if they had been able to do that it would have been done by now. George has been pretty unequivocal in what he has said.
"You have to think he has thought long and hard before coming out with the statement he made on Friday, it did not leave room for doubt.
"I think it brings it to a head. The hope will be it is resolved quickly, it has dragged on for long enough.
"It is clear to carry on with the status quo would be pretty difficult.
"All things are possible at the moment. Someone has to sell, that is clear if they are not able to co-exist.
"But there is plenty to focus on and a lot to play for in the next few weeks and that is what the players and (manager) Rafa Benitez are focusing on."