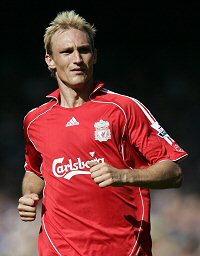 With the arrival of Agger and Skrtel you would have thought Sami Hyypia, at the age of 34, would have his days numbered at Anfield.
However, the talented Finnish player and former reds captain, is set to sign an extended contract with Liverpool taking him in to his 10th season at the club.
Sami has been an important player for the reds this year, and with his contract due up at the end of the year, Benitez has moved quickly to ensure that Hyypia remains in the red shirt.
Sami is approaching 300 games for the reds, and has played 34 times this year scoring three times. He has scored a total of 21 times for the reds.
Gerard Houllier paid a mere £2.6 million for the player in 1999 after the club were tipped off about him by a TV cameraman.
Sami himself recently said:
"It would be very nice to get to 10 years at the club, but I'm just concentrating on playing well.
"Whether I stay wouldn't depend on how many games I play. I'm not like that. I'm not interested in somebody promising me something.
"If we have four centre-backs then everyone fights for their place, and performances should determine who plays.
"If I keep playing well then it'll be difficult for the manager to change things."