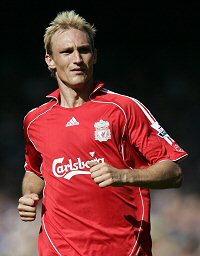 Sami and us fans can rejoice as the talented Finn and former Liverpool captain has signed a one year contract extension.
The player who has been reportedly the target of other Premiership clubs including Newcastle United, has had a larger than expected involvement in the team this season.
Speaking to the official website, Sami said:
"I would have had some options to go elsewhere but everything here has been great and I have enjoyed everything about my time here.
"I'm delighted that everyone wants me to stay here. I have a good relationship with everyone at the club, the fans and the players, so it would have been a big wrench for me to leave.
"But I wasn't thinking about it too much. The most important thing for me was to concentrate on the games and if I played well then maybe the club would want me to stay."
Sami will be eligible for a testimonial next season in what will be his 10th season at Anfield.
"It's not so common for a foreign player in this country to spend ten years at one club, so I am delighted to stay with this great club.
"We will see what next year brings. I will keep working hard and keep myself fit and whenever the manager needs me I will be there."