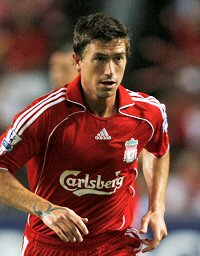 Harry Kewell who was shown the Anfield exit door a number of weeks ago has signed for Turkish side Galatasaray for two years after passing a medical.
Kewell was sent off for Leeds United in one the fiery encounters with the Turkish champions a number of years ago.
Kewell was available on a free transfer after Liverpool decided against offering the injury-plagued midfielder a new contract.  Harry who is still only 29 had this to say after joining the Istanbul side.
"They're a great club. They showed faith from the very start.
"There were other clubs out there but they were persistent and treated me very courteously.
"There are a lot of nice people over here, it's a great country and I'm looking forward to it.
"There were a few other clubs involved, other English clubs, but Galatasaray showed a lot of faith in me and were very strong from the start and that's why I signed for them.
"It's a new chapter for me, I'm looking forward to it. They've got a great young squad, I'm looking forward to meeting with the boys and training with them."
Despite some criticism from Leeds fans after the tragic events between the two clubs Harry said:
"It was a tragic thing what happened but we can't live in the past," he continued.
"We've got to look to the future and that's what I'm concentrating on.
"I gave a good nine years to Leeds and left on good terms, there shouldn't be any bad feeling."