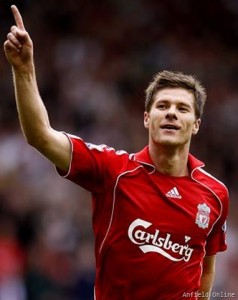 Juventus have moved in to the next phase of completing the signing reds midfielder Xabi Alonso – also known as the 'haggling' phase.
The Italian giants have been more than impressed, and who hasn't, at Xabi's performances in Euro 2008 and Liverpool's initial demand of just under £16 million was rebuffed by Juventus.
The club will struggle to afford Xabi that price and are now attempting to call Liverpool's bluff by expressing their interest in a couple of other midfielders.
Jean Claude Blanc, who is Juve's General manager mentioned Alberto Aquilani and Arda Turan in the same breath as our Xabi.

"We're following more than three footballers", he said. "And we'll see if what you read in the papers comes true or the other names we're working on.
"Xabi Alonso? It's an operation that we're taking forward and we'll compare him to other deals which could be done.
"We're looking for a very talented midfielder – there's not many of those around and some of them aren't available. We have to talk first with the club and then with the player.
"Only one of these deals will be done."
Despite many reds fans sense of bewilderment it now appears to be only a matter of time before Liverpool lose our influential Spaniard.