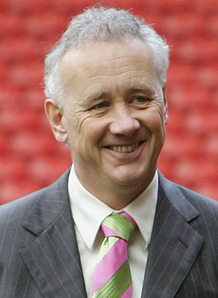 Looks like Sky Sports and the bookmakers picked the wrong man when they were looking for which person at Anfield was heading for the exit door didn't they?
The Liverpool Echo tonight broke the story that months after Tom Hicks called for his resignation, and years after Liverpool fans got fed up with him – the man who let Hicks and Gillett slide their way in to the Anfield boardroom will finally depart Liverpool Football Club by mutual consent at the end of the season.
His relationship with Rafa Benitez for one has proved to be a difficult one and the Echo reports that push has finally come to shove.
Although the decision appears to consolidate Rafa Benitez' Anfield position, it is thought that Parry will leave because of his unworkable relationship with Tom Hicks.
Speaking to the Official site Tom Hicks said:
"Rick's commitment to Liverpool Football Club is epitomised by his desire to ensure that this transitional period is managed efficiently and we are grateful to him for his help. He will always remain a friend of the football club."
Parry's friend in the boardroom, Gillett said:
"I would like to thank Rick for his significant service to the Club and the assistance he has given us since we joined Liverpool. He has been integral to the club's success over the past decade and leaves with our best wishes for the future."
Rick himself had the following to say:
"I have had 12 very exciting years at Liverpool and am extremely proud of what has been achieved by the Club over that period. The victory in Madrid was a wonderful reminder of the many high points we have experienced and adds to the moments that make Liverpool and its magnificent fans so special.

"It has been a privilege to serve the Club and as a lifelong supporter I wish the owners, Rafa, the players and the wonderful staff all the very best for the future. I will be leaving at the end of the season knowing that the Club remains strong and with a set of supporters who deserve success in all that Liverpool does."
Benitez's commented in his pre-Middlesbrough press conference:
"It's a decision between the owners and Rick Parry.

"We have very important games coming up. We'll work together for the rest of the season and after this we will wish him all the best.

"We know everyone wants the best for the club. We'll try to work together, try to win games and be successful.

"The relationship has been good and professional and now it will be the same because we both want the best for the club."
You can leave your messages of love for Rick in the Forum, or below.