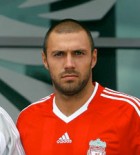 Liverpool FC have agreed a fee of £3.5M with Real Madrid for Alvaro Arbeloa to depart Anfield.
The right back is in the last year of his contract and  has rejected a contract extension. The player, who began his career with Real Madrid's youth and reserve teams, already has two full first team appearances under his belt at the Bernabeu.
Liverpool paid £2.6M for his services in January 2007, buying him from Deportivo La Coruna. The right back played 99 times for Liverpool – initially starting on the left hand side.  The arrival of Glen Johnson effectively ended the player's Anfield career.
Meanwhile, over on the left wing, Andrea Dossena look set for a £4.5M return to Italy. The Italian 'defender' signed for Liverpool last year for £7M but despite memorable goals against Real Madrid and Manchester United – has failed to meet the standard required at Anfield.
Despite being linked to a string of Italian clubs – Napoli appear the forerunners to conclude the deal this week.
Speaking to the Italian media – Dossena's agent said:
"We want to close the deal, we will reach an agreement.

"Napoli's offer is 5million euros (£4.3million) plus bonuses.

"It's a deal the two clubs are sorting out, we're waiting for news.

"Napoli know how much Andrea earns, a significant sum, but less than two million.

"Our intention is to reach an agreement. We will not even have a problem with giving up image rights.

"Although he loves being at a great club like Liverpool, he would welcome the opportunity to join Napoli with great enthusiasm."
Let me just read one sentence again.
"We will not even have a problem with giving up image rights.
The mind boggles.