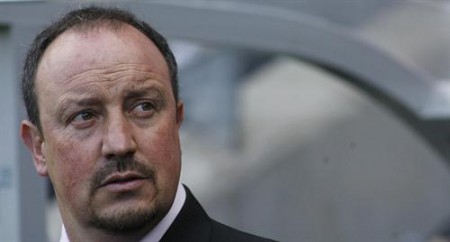 The Liverpool board are meeting this evening and leaking information to the press about a severance package for Rafa Benitez.
Rafa himself is on holiday.
The club are keen to offer Rafa £3M for him to mutually agree to the termination of his contract.  Under the terms of his remaining deal Benitez is entitled to the rest of his contract – a total of £16M.
It seems that the Liverpool board don't even have the spine, or financial muscle, to sack the manager.
The significance of the £3M offer amuses us greatly.  It is approximately the amount in bank interest Liverpool have wasted since only the end of the season. In total the owners have spent £110M of Liverpool FC's money on bank interest in just over three years.
In our recent poll over 75% of Liverpool supporters backed Rafa Benitez.
We now find ourselves in the ridiculous situation whereby
Tom Hicks and George Gillett (who both want to sell the club) and Martin Broughton, the club's chairman and an ardent Chelsea supporter are now deciding the future manager of the football club.  Whatever happens, there is no transfer fund for this summer (the third successive year we have not spent in the transfer market), and we expect departures of several big names from Anfield – with both Steven Gerrard and Fernando Torres set to leave.
One final thing – we find it utterly reprehensible that senior members of Liverpool's hierachy are continuing to assasinate Rafa Benitez's character in the press.  It not only isn't the Liverpool way, but it shows how spineless the current 'custodians' of the club have become.
It will be up to people to make their own judgements about what they can do.  But in my respect, I personally will not be attending any further Liverpool FC games until the owners have relinquished their horrific and devastating ownership of the club.