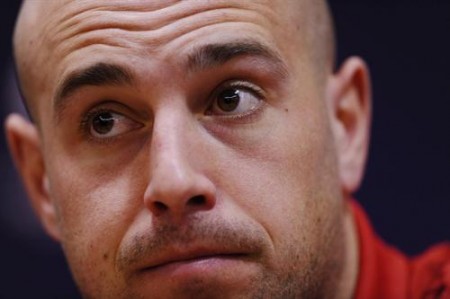 Pepe Reina accompanied Rafa Benitez to yesterday's pre-match press conference with the charism in full flow.
One of Liverpool's talismanic players, the man is widely regarded as the backbone of the dressing room and Liverpool fans will be pleased to hear that he is almost ready to put pen to paper on an extended contract.
"The club has been good to me and I am grateful.

"My family believe there is no better place to be than here and that's why we'll be here a bit longer – much longer.

"But believe me I am going to stay here longer. I am really happy here, the club seems happy with me and it's just about time now. I am sure it will all be sorted out in a couple of months, and you will find some more information in a month or so."

"There is nothing I feel more excited about than the chance of winning the league once with Liverpool. That would be a dream and hopefully in a short period it will come true.

"I hope we will build something good from the weak moments we have had this season.

"A proper team, a strong team has to do that and Liverpool is a strong team."
Pepe Reina briefly touched on the huge disappointment being felt by Liverpool's players this season.  A disappointment at the fact the board have failed to give new investment to the manager for over 2 years.
"I can talk about the players but not the investment – that is not in our hands.

"But I hope we can compete with these kinds of transfers (by Manchester United and Chelsea) and spend some more money in the market, maybe go toe-to-toe with them.

"All I want and the team want is to be competitive as the others.

Pepe turned his attention to the clash against Lille this evening.

"This is the only trophy we can lift and it is massively important to us.

"Winning a trophy is always good, no matter how your season has been.

"We know this season hasn't been good enough and we can do better. Everybody knows that. But as long as we have the possibility to win a trophy, that is the main thing. The target was to fight for the title but right from the beginning we did not do well.
Pepe had one last word for the Liverpool fans heading to tonight's European clash.
"All I hope and ask for is for Anfield to be behind us and the supporters to create a nice atmosphere because we will need them.

"It's massively important, that's why I am asking for it.

"We know the fans will be behind us once again. All of us are asking the supporters to stay behind the team more than ever and support us from the beginning.

"The fans know it will make it much easier for us. The commitment, passion and desire to win the game will be much, much higher this way."
While Rafa Benitez may have been disappointed with the outburst from Albert Riera, he championed the reds keeper as an example to the rest of the team. The reds boss said,
"It is important to show that commitment. Maybe it will be an example for the rest of the players. You can see every day how much he loves being here. Pepe is very happy, his family is very happy and he is settled. He loves the fans, they love him."