Fenway Sports Group today took the decision to sack Kenny Dalglish as Liverpool manager after a meeting earlier this week in Boston.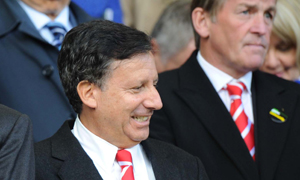 The two time Liverpool manager returned to the helm after Fenway sacked Roy Hodgson in January 2011.  Despite salvaging last season and finishing 6th, and taking the club back to Wembley three times this season (winning the first trophy in six years in the process) it appears that Fenway believe that Liverpool's squad was good enough to finish much higher, and Dalglish has paid the price for an 8th placed league finish.
Steve Clarke, assistant manager, is understood to be considering his position.
Fenway Sports Group's meek statement said:
"After a careful and deliberative review of the season, the club came to the decision that a change was appropriate.

"Results in the Premier League have been disappointing and we believe to build on the progress that has already been made, we need to make a change."
Meanwhile Kenny himself said:
"I am disappointed with results in the league, but I would not have swapped the Carling Cup win for anything as I know how much it meant to our fans and the club to be back winning trophies," said Dalglish.

"It has been an honour and a privilege to have had the chance to come back to Liverpool as manager.

"Whilst I am obviously disappointed to be leaving, the matter has been handled by the owners and all concerned in an honourable, respectful and dignified way and reflects on the quality of the people involved and their continued desire to move the football club forward."
Liverpool will be  set to announce their fourth manager in a little over 2 years - a remarkable turnaround in managers who only had four managers in the space of 31 years from Shankly to Dalglish.
Off the field, Fenway have allowed a ridiculous situation to develop.  The club now not only has no manager , but no Director of Football, no Communications Chief, no Chief Executive and seemingly no further forward on a new stadium despite Fenway's 18 months in charge.
The men who love their baseball appear to be showing an alarming lack of knowledge of football.