The reds were handed one of the more difficult opponents in today's draw for the Champions League qualifier.
20 teams take part in the final qualifying stage - with 10 teams going on to enter the prestigious group stage of Europe's premier competition.  Chelsea, Spurs and Man City (via league position) and Man Utd (via Europa League win) are already in the 22 group stage sides.
Liverpool were in the half of the draw reserved for teams who qualified through their league position - alongside 3rd and 4th placed teams in some of Europe's bigger leagues.
The full draw is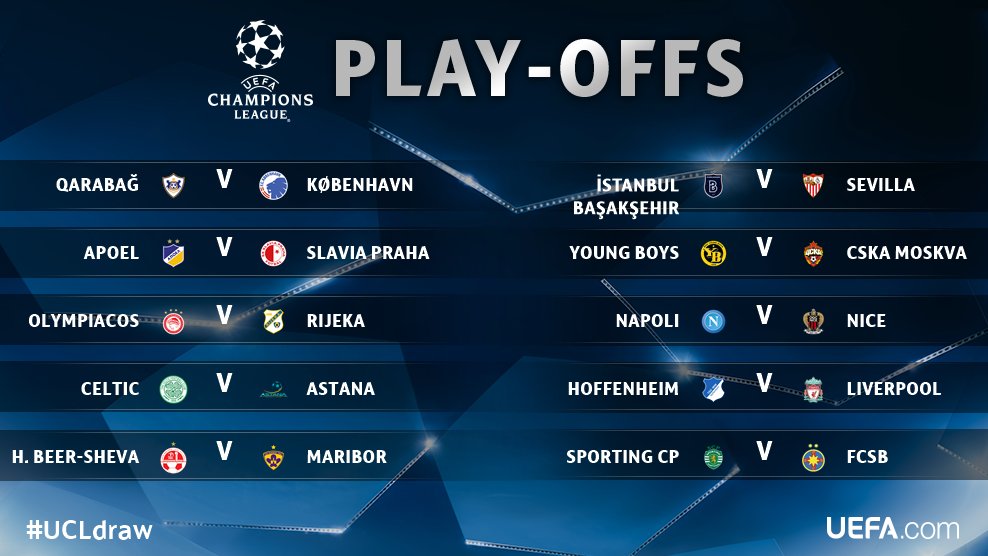 The reds were drawn out second, meaning the second leg will be at Anfield.  The first leg will be played in just over 10 days time in Germany.
Hoffenheim are the former club of Roberto Firmino, but the reds have never played the German side who like Liverpool finished 4th in their league last season.  They only lost 4 games - the second lowest in the Bundesliga - and didn't lose a league game until the very end of January last time around.
They play at the 30,000 capacity Wirsol Rhein-Neckar-Arena.
And back to Germany it goes... 🇩🇪 Not an easy draw - but we'll give it all to make it to the @ChampionsLeague 🔴✊🏼 #ynwa #hoffenheim #ucldraw

— Loris Karius (@LorisKarius) 4 August 2017
The head coach of Hoffenheim,Julian Nagelsmann, was excited by the draw:
"It's indeed a tough draw, but there wasn't really one easy draw. We can play against a great opponent in a legendary stadium. It's something special.

"Only this morning, I said that if you want to win the trophy you have to beat every opponent and so we also need to come out on top against Liverpool. I had a feeling it would be Liverpool and I think it's a great thing for both our fans and the media.

"Jurgen Klopp is back in Germany. I believe they would not have necessarily picked us as their opponents. We will give it our all to progress. Liverpool are an outstanding team. I already have an idea how we can achieve something, but we still need to see a couple of matches to work out a plan."
Meanwhile the Liverpool boss, who is preparing for tomorrow's final pre-season friendly, said:
"Very interesting. Actually, it was exactly what I expected when I had a look – if there's a choice we always seem to take the German team! Sorry!.

"It was clear from the first moment when we knew who we could face that there would be no easy game. It's Hoffenheim and that's for sure not an easy game.

"But we should always not forget what they thought in the moment they saw the draw – it's not the best thing they could get.

"I'm completely fine with it, happy to know and now we can start preparing. They're a strong side, how everybody can imagine. When you are fourth in Germany you are a strong side.
The first leg will be played at Hoffenheim on Tuesday 15th August, while the return Anfield leg is the following Wednesday 23rd August.  Kick off times for both games are 7:45pm BST.