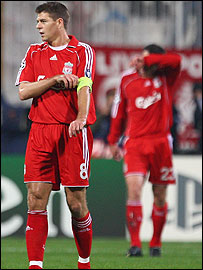 The reds miserable run in Europe continued in Istanbul tonight as a lively Turkish support were rewarded with seeing their side leave the reds requiring another miracle to qualify.
It looks like the reds will need to win all three of their remaining group games to progress to the next stage of the tournament that we hold so dear.
In our present position, bottom of the group, we won't even be handed the consolation prize of entry in to the UEFA Cup.
The reds started poorly but Sami Hyypia just can't stop scoring. Unfortunately, his scoring streak has been in to the back of his own net, after an own goal of the highest comedic value. Words cannot even begin to express the acute hilarity of the goal so I won't delve in to them here.
With each attack from Besiktas new problems were emerging as Carragher and Hyypia appeared to look like they had only just met on a blind date and the entire back four were almost unrecognisable from the same unit that was so succesful two seasons ago on the way to Champions League glory.
Poor defensive positioning led to Besiktas taking a 2-0 lead – Reina was forced to make a move to come to attempt to claim the ball but Bobo slid the ball under the Spaniard.
Funnily enough, just like after Marseille's first goal, Liverpool then decided they were in a game. It never ceases to amaze me the energy and ability Liverpool manage to muster when they are losing a game. Gerrard connected with a cross and dispatched the ball away to give the reds some hope.
But there was to be no further miracle in Istanbul.
The reds were second best, as they had been against Marseille, and even the most ardent of Liverpool supporters will admit that any further lazy performance like this one in any of the next three Champions League games will result in the reds suffering the embarrassment of being dumped out of the tournament.
I'd like to offer some words of encouragement for the weeks ahead but now is not the time. Here's something though – next up Arsenal.