UEFA Champions League Quarter Final 1st Leg
Wednesday 2nd April 2008 @ 7.45pm
Emirates Stadium
Arsenal performed well on a night in front of their home supporters but failed to make the clinical blows to damage Liverpool's hopes of reaching a third European semi-final in four seasons.
Despite a brisk opening by the reds, Arsenal's flowing football helped the Londoners to some decent pressure which culminated in a deserved goal.  Liverpool's normally robust defence was unhinged by a set-piece, a corner finding the head of Adebayor in the 23rd minute who headed from 4 yards out.
Liverpool excel at defending the lead in European games.  Arsenal didn't.
Within 3 minutes Gerrard collected the ball outside the area, and proceeded to skip past two Arsenal players in a most un-English fashion.  He sent the ball in to the danger zone and it was Dirk Kuyt who toe-poked the ball home.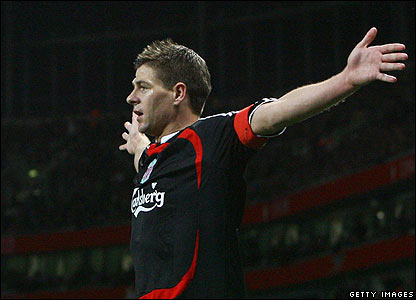 Arsenal were stunned and the reds went on the attack.  Another decent spell for the reds which could have been put to better use – a weak Babel shot failing to trouble Almunia.  The last five minutes of the first half Arsenal again had the upper hand as the reds were caught in a mini-tornado of defending corners.
The second half and Arsenal came out keen to get a second goal and cancel away some of the misery that Liverpool's crucial away goal had inflicted on them.
Arsenal could have had a penalty when Dirk Kuyt appeared to hold his arm around Hleb.  Arsenal fans will probably feel aggrieved.  Having seen the replay again I'm not convinced there was enough contact to bring the player down, but I guess I would say that.
Certain moments happen in every Champions League campaign.  In Istanbul, the Dudek save from Shevchenko – the 'miracle' save as it is now known was seen as divine intervention from the great Shanks above.  Maybe Mr Paisley had something to do with the comical moment of Bendtner clearing a Fabregas shot off the line for us.  If he hadn't have got in the way Arsenal would be leading this tie.
As it is, the reds are level with the slender advantage of an away goal.  But Anfield next week will be a different story.
Next up on Sunday we have Arsenal. At the Emirates. Again.
Teams:
Liverpool: Reina, Carragher, Skrtel, Hyypia, Aurelio, Mascherano, Alonso (Lucas 76), Kuyt, Gerrard, Babel (Benayoun 57), Torres (Voronin 85).
Subs Not Used: Itandje, Riise, Crouch, Arbeloa.
Goals: Kuyt 26.
Arsenal: Almunia, Toure, Gallas, Senderos, Clichy, Eboue (Bendtner 67), Flamini, Fabregas, Hleb, Van Persie (Walcott 46), Adebayor.
Subs Not Used: Lehmann, Diaby, Song Billong, Silva, Justin Hoyte.
Goals: Adebayor 23.
Att: 60,041
Ref: Pieter Vink (Holland).
Quick Links
Updated LFC Stats