Liverpool kicked off their 10/11 season tonight in the Europa League qualifiers against their Macedonian opponents in the name of Rabotnicki. After all the uncertainty and worry that surrounds sections of our club, it was good to get some competitive football into our systems. And definitely good for Roy Hodgson and his players to have a bit of a test so early into the season.
The game kicked off with Liverpool boasting a strong defence in Agger, Skrtel, Kelly and Kyrgiakos. And even though Kyrgiakos was met with a tirade of booing from the crowd every time he went near the ball, it was good to see him and the other lads together at the back. This game was a potential banana skin for Roy Hodgson so he had to make sure we were tough to beat in defence, no matter what.
There were patches of play in the first half where Liverpool looked a bit rusty. And that's fair enough – we're not in August yet! But the attitude was looking right. Which is what you have to look for in these types of games. Ngog and captain Lucas were moving and working hard. Amoo and Jovanovic were eager to get forward and pressure the ball when not in possession. Amoo got a few decent crosses in. And in the 17th minute, Liverpool broke the deadlock with Ngog taking advantage of some woeful defending from their opponents. Lucas played the ball forward with not much pace on it. Ngog ran onto it unchallenged between the defender and keeper and stroked the ball home with ease.
Liverpool gradually began to impose themselves as the half went on. The confidence and attitude was looking right and Liverpool got more of the ball. By half time you were thinking that we could easily get another one or two in the second half.
Liverpool came out in the second half with the same attitude. Amoo was again looking threatening down the wing. He is looking a promising player to have down the right in pre-season. Again, the passing wasn't brilliant but in general it was good. Liverpool kept the ball pretty well and worked it around the Macedonians. And in the 57th minute, that man Ngog was there again to put the ball away and make it 2-0. The impressive Kelly pushed forward in the oppositions half and crossed a nice little weighted ball into the box. Ngog caressed the ball past the keeper with a beautiful volley.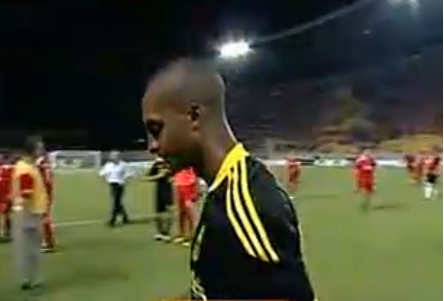 Rabotnicki had to react and they had a ten minute spell of more attacking football than they had played all game, but it came to nothing. Liverpool were too composed. And continued to press back their opponents. The game began to fizzle out to something that would resemble a competitive training session.
Into the last ten minutes and Liverpool were resisting any advances from Rabotnicki. Dalla Valle and Eccleston came on to replace Aquilani and Amoo. Which left Ngog on to look for his hat trick. But it didn't come and the reds ended up with a nice two goal cushion to take to Anfield and Roy Hodsgons first Liverpool win under his belt. And it was a win that mattered – unlike the previous two results of his reign as reds boss. A good run out for the boys. They displayed, most importantly, the attitude to win. Something definitely to build on this season.