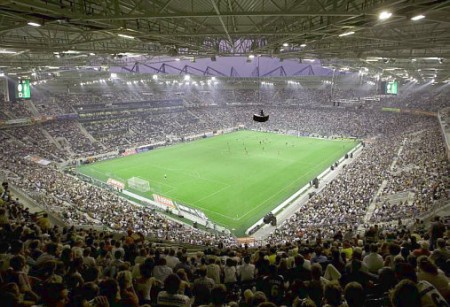 Liverpool's opponents on the night of their first European Cup Final victory had invited us to play in their first game at their fantastic new stadium.  Whilst unexpected European duties put paid to the Reds being the first to play there, it took nothing away from the special occasion that owes everything to the friendship formed between the two clubs from that famous night in 1977.
As well as this, the build up to this match has had fans relishing the thought of seeing Joe Cole in a Liverpool shirt, as well as the return to action of Steven Gerrard, Jamie Carragher and Glen Johnson.
There was also a surprise start for Emiliano Insua, who's move away from Anfield appears to have hit a brick wall.  In addition to this, there were rests for N'Gog, Lucas, Krygiakos, Skrtel and Agger, possibly with Europa League action in mind.
10 minutes in, Liverpool conceded as a result of sloppy defending from Ayala and even sloppier distribution from Diego Cavalieri.
The second half started with new arrivals Danny Wilson and Milan Jovanovich coming on for Carragher and Dalla Valle.
Monchengladbach started lively again, hitting the side netting 3 minutes in.
A spill from Borussia's goalkeeper on 55 minutes appeared to have given Liverpool a breakthrough to equalise, but they were quickly closed down.
An hour in and the wholesale changes began. Johnson and Insua were swapped directly for Stephen Darby and newly re-signed left back Fabio Aurelio.  This was quickly followed by Gerrard and Ince being withdrawn for Amoo and  Spearing.
Joe Cole's debut then came to an end on 64 minutes when he was substituted for Alberto Aquilani.
Some good passages of play from the Reds was soured somewhat with the lack of a killer final ball.
Hungarian keeper Gulacsi came on for Diego Cavalieri around 67 minutes.
Wilson showed fantastic composure in clearing a Monchengladbach approach on 73 minutes, clearing the ball safely behind for a corner.
Ecclestone gave way for Irwin shortly afterwards, while Shelvey's impressive performance came to an end with a swap for  15 year old Raheem Sterling on 82 minutes.
A fantastic flurry of passing from a free kick on 86 minutes saw Amoo head Jovanovich's ball narrowly wide of the right hand post.
On 88 minutes, 16 year old Suso came on for Milan Jovanovich. Young Raheem Sterling was quickly given a yellow card, followed shortly by the final whistle.
Impressive performances from some of our younger players, Jonjo Shelvey and Danny Wilson in particular will be the resounding memories from this match, as well as our entire named squad getting time on the pitch.
Liverpool FC line-up:
Cavalieri, Johnson, Insua, Ayala, Carragher, Gerrard, Shelvey, Ince, Eccleston, Cole, Dalla Valle.

Subs: Gulacsi, Aurelio, Wilson, Darby, Irwin, Spearing, Aquilani, Jovanovic, Amoo, Suso, Sterling.