FA Premiership
Saturday 8th December 2007 @ 5.15pm
Reading
It was a day to forget as Liverpool's Premiership unbeaten run ended after a miserable day down at Reading.
Nobody can argue with the result, Reading deserved all three points and Rafa and his players deserve to leave empty-handed.
Benitez started with three strikers on the pitch, and left Hyypia on the bench to continue the blooding of new centre-back Jack Hobbs. Momo Sissoko started in midfield.
The reds gave away a penalty within the first 15 minutes – not debutant Jack Hobbs – but Jamie Carragher, and not for the first time this season either. A fairly silly challenge on the advancing Gunnarson and referee Andre Marriner, reffing only his second ever Premiership game, pointed to the spot. Stephen Hunt fired home from the penalty spot.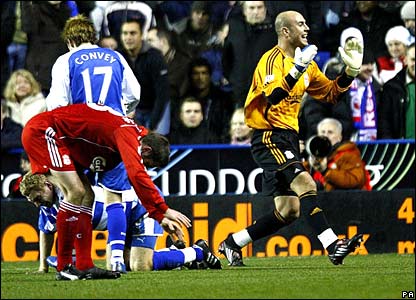 Reading had conceded more than five times as many goals as the reds in the Premiership and on the 27th minute, against the run of play, Steven Gerrard equalised for the reds. A long ball from Reina was brough under control by Torres who found Gerrard. The captain then strode through the centre of Reading's defence before lashing the ball home.
Liverpool finished the first half well -enjoying most of the possession even if there were little real chances on goal.
In the second half the reds started brightly and Jack Hobbs nearly got a dream goal on his full Premiership debut when Reading's Gunnarson played Liverpool onside only for inexperience to get the better of the reds young centre back who smashed the ball in to the stands.
A Torres diving header, a Riise free-kick and a Gerrard blaster all went close – but not close enough.
Reading advanced their lead when a Nicky Shorey free kick was helped on with the faintest of touches from Kevin Doyle's head in the 58th minute.
As Liverpool searched for another equaliser some poor defending led to Reading's breakaway third goal in the 66th minute. Kevin Doyle took up the great pass from the half-way line to round Reina and fire in to the empty net.
Benitez withdrew Torres, Gerrard and Carragher in the second half. The fans were perplexed but Gerrard was seen holding an ice pack against his leg.
Liverpool lose their unbeaten run. Next week's game against Man United is now all about catch-up rather than trying to move ahead of the chasing Premiership pack.
Liverpool, and Benitez, have been criticised in recent years for thinking too much ahead – concentrating too much on the European games and the big Premiership clashes. Whether Benitez was guilty of underestimating the Reading side or if he was concentrating too much on the Marseille game in his team selection and formation is a matter for others. Victory next weekend is the most important three points of the week.
Post Match Reaction:
to be added shortlyTeams:
Liverpool: Reina, Arbeloa, Carragher (Hyypia 82), Hobbs, Riise, Gerrard (Babel 71), Mascherano, Sissoko, Voronin, Torres (Kewell 61), Crouch
Subs Not Used: Itandje, Kuyt
Goals: Gerrard 27
Booked: Gerrard
Reading: Hahnemann, Murty (90 Cisse), Sonko (81 Bikey), Ingimarsson, Shorey, Hunt, Harper, Gunnarsson, Convey (88 Lita), Doyle, Kitson
Subs not used: Federici, Long
Goals: Hunt (15 pen), Doyle (58, 66)
Att: 24,022
Ref: Andre Marriner
Quick Links
Forum Discussion on this Game
Latest Premiership Table
Updated LFC Stats
LFC Season Analysis 2007/08