Liverpool crashed to their third home defeat of the season as Tottenham Hotspur climbed above the reds by one point, in the race to finish fifth. With only one game left to play now, it is no longer in Liverpools hands to ensure they finish in the Europa League slot.
Liverpool were a darker contrast to the bright sparks they displayed in the 5-2 demolition of Fulham last week. Whereas Liverpool looked like they could score every time they went forward at Craven Cottage, the reds looked more of a toothless effort at home against Spurs. And credit where credit is due, Spurs did work hard in the midfield.
It was only nine minutes in and Liverpool found themselves behind to a Van der Vaart shot from the edge of the box. Spurs started off with more intention to their game and it paid off.
Liverpool seemed slower to get things moving in midfield and Suarez was looking frustrated. Andy Carroll coming back in place of Meireles looked understandably slow off the mark.
As the game progressed, Liverpool started to have more of an influence and pressed the Spurs defence. Carroll had a great chance to level the scores from a Skrtel cross in the six yard box, but the big number nine could only head over the bar. Another opportunity arrived when Carroll was brought down on the edge of the Spurs box but Suarez went just wide of the goal with the free kick.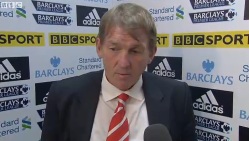 The second half brought us some terribly poor decisions by the referee Howard Webb. The most pivotal decision being the penalty he awarded Spurs which was both questionable whether it was in the Liverpool box to begin with and whether the decision was even a foul in the first place. Flanagan was going towards the box challenging Pienaar for the ball, where suddenly both players seemed to trip over each other as they were running. It was a big decision that Webb clearly lost his nerve with in front of the Spurs fans and he awarded the penalty. Modric put the ball past Pepe Reina and Liverpool were down by two goals. Flanagan has no reason to feel guilty though.
The game went on and it was looking more and more unlikely that the reds would score. The form just wasn't quite there. And when Liverpool did press and create an opportunity, they weren't on target.
But it wasn't like this was the end of the road. There's still one game to play against Aston Villa and Liverpool can still qualify for the Europa League next season. And when you take into consideration how bad things could have really ended up this season if certain people had still been around to do the lap of the pitch post game or look on from the directors box, then you have to be reflective and look forward to the bright future that is in front of us.