Christian Poulsen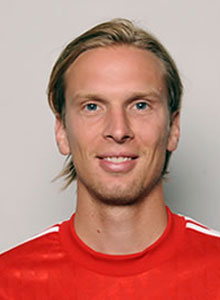 LFC Profile and Statistics
Midfielder
(Centre)
Full Name:
Christian Poulsen
Born:
28th February 1980 in Asnaes
Age:
40
Bought:
15th August 2010 from Juventus
Transfer Fee:
£4,500,000
Sold:
31st August 2011 to Evian Thonon Gaillard
Fee Received:
£0
All LFC Appearances:
21
LFC Goals:
0
Career Appearances:
21
Career Goals:
0
Denmark Appearances:
Goals:
Previous Clubs:
Christian Poulsen Profile
Christian Poulsen signed for Liverpool in the summer of 2010 for a fee of £4.5 million from Juventus. His carrer has seen him play at clubs such as Sevilla and Schalke, He also began his career at Copenhagan playing for the man who signed him for Liverpool-Roy Hodgson.
Disappointgly Christian's Liverpool career so far has seen him take almost as much crictism as Hodgson. Jeered by the fans agianst Blackpool, and putting several poor perfomances lead to him losing his place in the team, a popular descion amongst Liverpool fans.
Hodgson's depature has seen a small rise in perfomance by Christian, though not a regular starter Kenny Dalglish has deployed him when looking to shut out games. However Christian has a long way to go before he is considerd a success at Anfield.
Last updated by thereds13
Latest articles about Christian Poulsen
LFC Reds: LFC Fan discussions on Christian Poulsen