Fernando Torres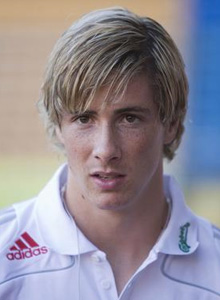 LFC Profile and Statistics
Attacker
()
Full Name:
Fernando Jose Torres Sanz
Born:
20th March 1984 in Madrid, Spain
Age:
38
Bought:
4th July 2007 from Atletico Madrid
Transfer Fee:
£21,500,000
Sold:
31st January 2011 to Chelsea
Fee Received:
£50,000,000
All LFC Appearances:
143
LFC Goals:
81
Career Appearances:
386
Career Goals:
172
Spain Appearances:
67
Goals:
22
Previous Clubs:
Atletico Madrid
Fernando Torres Profile
Fernando Torres, who has the nickname 'The Kid' arrived at Liverpool in the summer of 2007 smashing Liverpool's record transfer fee.
The player arrived at the age of 23 having been captain of his only other professional club, Atletico Madrid, who he made his debut for in 2001 at the age of 17. In his time in La Liga, he scored 75 goals in 174 league appearances. The club had also spent two seasons in the second division.
In his first Liverpool season he became the the first Liverpool player to score more than 20 league goals in a season since Robbie Fowler 11 years previously. He also scored more goals in a debut season than any other overseas player in Premiership history.
He made his Spanish debut against Portugal in 2003, and his international career highlight was scoring the winning goal in the 1-0 victory over Germany to win the European Championships in the summer of 2008.
Torres made his LFC debut against Aston Villa on the 11th August 2007. The reds won 2-1 at Villa Park. His first ever Champions League appearance was the 15th August 2007 when he came on as a late substitute in Liverpool's Champions League qualifier against Toulouse.
He scored his first Liverpool goal on his Anfield debut when it took him only 16 minutes to twist and turn past the Chelsea defence. In September he scored his first hat-trick for the club in the 4-2 League Cup win over Reading. After a minor injury, Torres exploded scoring two hat-tricks in a matter of weeks against Middlesbrough and West Ham, becoming the first Liverpool player since 1946 to score two consecutive hat-tricks at Anfield.
By April he had scored 29 goals in all competitions, beating the best ever season that Michael Owen had at the club. On the 4th May 2008 against Man City, Torres equalled Roger Hunt's Liverpool record of scoring in 8 consecutive league games.
Torres completed the season with 24 goals in 33 league appearances. Rumours abounded at the season end that Chelsea had offered Liverpool around 50 million pound for the player. Liverpool responded by saying he was 'not for sale at any price'.
In the 2008/09 season Torres was plagued with hamstring injuries in the first half of the season. However 2009 started well for the player. He scored two late goals at Anfield to seal a 2-0 win before a week later coming off the bench and scoring in injury time once more to ensure Liverpool got all three points against Portsmouth.
2009/10 ended up another frustrating season for Torres, who picked up an injury whilst on international duty in September that he never shook off fully. He missed the end of Liverpool's season following an operation, and struggled through the World Cup - even suffering a groin injury late on in the World Cup Final, which Spain won.
Speculation in the summer of 2010 linked the player with a move away, especially with the departure of Benitez. Fernando has been one of the player's most critical of the formerowners, and it is believed that new investment is needed urgently to keep Torres at Anfield.
Rumours of a fall-out with Roy Hodgson have increased speculation that Torres will leave Liverpool. His start to the 2010-11 season has been slow. Despite playing in all of the first 15 games he only registered 5 goals.
Latest articles about Fernando Torres
LFC Reds: LFC Fan discussions on Fernando Torres