Martin Skrtel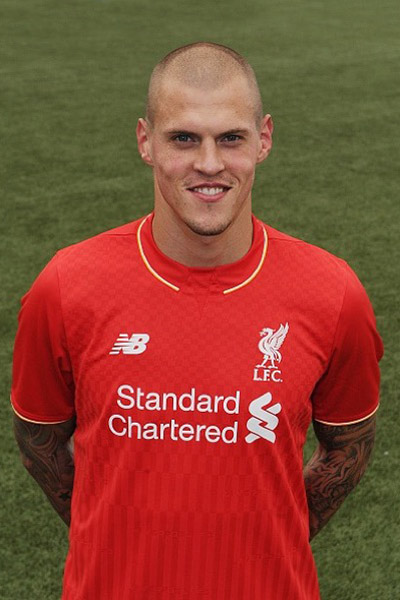 LFC Profile and Statistics
Defender
(Centre)
Full Name:
Martin Skrtel
Born:
15th December 1984 in Handlova, Slovakia
Age:
37
Bought:
11th January 2008 from Zenit St Petersburg
Transfer Fee:
£6,500,000
Sold:
13th July 2016 to Fenerbahce
Fee Received:
£5,500,000
All LFC Appearances:
320
LFC Goals:
18
Career Appearances:
439
Career Goals:
29
Slovakia Appearances:
83
Goals:
5
Previous Clubs:
Trencin, Zenit St Petersburg
Martin Skrtel Profile
Slovakian defender Martin Skrtel began his career playing for local side Trencin before moving to Zenit St Petersburg in 2004, quickly establishing himself for the Russian side and the Slovakian national team.

He was a competent ice hockey player in his youth but chose to give it up to concentrate on football, which his father had played for FC Prievidza; and which Martin would do also in his youth. He then went on to sign for FK AS Trencin, where he tried a number of different positions before becoming comfortable as a centre half.

Skrtel´s first major opportunity came with Zenit St. Petersburg, who snapped up the Slovakian in 2004 after spotting his obvious talent. He went on to make 113 appearances for the club, scoring 5 goals in the process and helping Zenit win the Russian Premier League in 2007; his performances helping him win Slovak player of the year in 2007.

Martin signed for Liverpool on 11th January 2008 for £6.5 million, with Rafa Benitez being delighted with his capture.

After a shaky debut against Havant and Waterlooville in the FA Cup, Skrtel established himself as a strong, no nonsense defender with assured displays against Chelsea away, Everton at home and notably in both legs of the Champions League tie against Arsenal. He is seen by fans as an important part of the club's future and as Jamie Carragher´s eventual successor.

His first half-season at Anfield was a very impressive one and he hopes to build on this success in 2008/09. So far so good. (smigger15)
Martin started the 2008/09 season as the first choice centre-back alongside Jamie Carragher. However a serious knee injury suffered away at Manchester City left Martin on the sidelines for the rest of 2008.

Martin came back into the squad towards the end of the season and started the first game of the 2009/10 season alongside Jamie Carragher at Centre back, however a clash of heads between the two left Skrtel with a broken jaw, after returning his perfomances dipped a little, However 'Skrts' has been an ever present in the team since the start of the 10/11 season but some fans still are unhappy with his perfomances, his positonal play particuarly leaves something to be desired. Since the appointement of Steve Clarke as coach, Skrtel perfomances has improved agian, let's hope he can get back to the level he was at when he first arrived.
Last updated by thereds13
Latest articles about Martin Skrtel
LFC Reds: LFC Fan discussions on Martin Skrtel
Martin Skrtel gifts to buy