Milan Jovanovic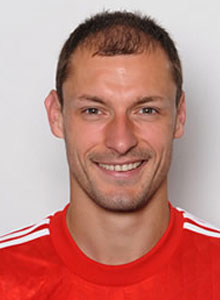 LFC Profile and Statistics
Attacker
(All sides)
Full Name:
Milan Jovanovic
Born:
18th April 1981 in Bajini Basta, former Yugoslavia
Age:
40
Bought:
8th July 2010 from Standard Liege
Transfer Fee:
Free
Sold:
5th August 2011 to Anderlecht
Fee Received:
£0
All LFC Appearances:
18
LFC Goals:
2
Career Appearances:
18
Career Goals:
2
Serbia Appearances:
Goals:
Previous Clubs:
Milan Jovanovic Profile
Versatile forward Milan Jovanovic arrived at Anfield in the summer of 2010 on a free transfer from Standard Liege, he began his Liverpool carrer in the Europa league agianst Rabotonicki on july the 29th 2010. Jovanovic made his premier league debut agianst Arsenal producing a decent perfomance. Milan can play on the left wing, behind the striker or as an out and out striker. He has impressed fans with his dertamanation and stregth.
Jovanovic is also a key member of Serbia's international team and scored the winning goal agianst Germany in the world cup for them.
Last updated by thereds13
Latest articles about Milan Jovanovic
LFC Reds: LFC Fan discussions on Milan Jovanovic