Xabi Alonso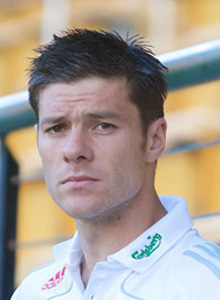 LFC Profile and Statistics
Midfielder
(Centre)
Full Name:
Xabier Alonso Olano
Born:
25th November 1981 in Tolosa, Spain
Age:
40
Bought:
20th August 2004 from Real Sociedad
Transfer Fee:
£10,500,000
Sold:
30th July 2009 to Real Madrid
Fee Received:
£30,000,000
All LFC Appearances:
207
LFC Goals:
19
Career Appearances:
350
Career Goals:
29
Spain Appearances:
61
Goals:
5
Previous Clubs:
Real Sociedad, SD Eibar
Xabi Alonso Profile
Xabi Alonso the undisputed king of the long range strike and probably one of the best all round midfielders in the world joined Liverpool in the summer of 2004 alongside Luis Garcia and became one of the first signings to be made by new manager Rafael Benitez. Alonso started his professional career at Real Sociedad where he became club captain at the tender age of 19 and went on to progress at both club level and international level.
He wasted little time in repaying Toshack for the opportunity by helping them avoid relegation in his first season and maintaining there position in mid table for the next. The 2002-03 season saw Alonso reach new heights in club football by watching his team finish 2nd in La Liga and qualify for the Champions League for the first time ever, a start to a wonderful relationship with the cup some may say. The performance saw him being awarded the Best Spanish Player award for that year and much praise from even the national coach Inaki Ssez.
On 20th August 2004 Real Sociedad announced that a deal had been struck with Liverpool worth £10.5 M and wasted little time on making an impression at the club by making his debut against Bolton Wanderers 9 days later and showed a glimpse of things to come from the talented midfielder. Xabi scored his first Liverpool goal against Fulham on the 16th October 2004 with a fine free kick, the first of many vital goals for the Anfield club.
Another of Alonso´s vital goals came in a certain champions league final on the 25th May 2005 where he had a penalty against AC Milan when Liverpool were trailing 3-2. Alonso saw his first effort saved by Dida but then slotted in the rebound to take the tie to extra time and then penalties, which Liverpool went on to win and made history by becoming the first British team to win 5 European cups.
The 2005/06 season saw Alonso bring in more silverware as he helped Liverpool lift the FA Cup which included 2 sensational goals against Luton on 7th January 2006, which along with the strike against Newcastle on 20th September 2006 made him the only player in the modern professional game to score two consecutive goals for his club from inside his own half of the pitch.
On 8th June 2007 Alonso signed a 5-year contract, undermining a flurry of transfer rumours. In early 2008, he lost his place to Javier Mascherano but then Liverpool boss Rafa Benitez changed his formation by moving Steven Gerrard further forward as a second striker. Alonso was recalled back to the team to fill the berth. Alonso won the Euro 2008 tournament with Soain, Alonso's international success continued as he scored twice in a 3 nil win against Denmark in August. (AJ)
2008/09
The 2008/09 season saw a return for Alonso to the blistering form of his first couple of seasons at Anfield. he was integral to Liverpool's title challenge with his brilliant vision and passing. He became the first player in the season to reach 1000 successful passes as he once again established himself as one of the world's best midfielders. He also scored crucial goals including the only goal at Stamford Bridge as Liverpool ended Chelsea's formidable home record. However, despite having a super season and being to crucial to Liverpool's improved league form, speculation continues regarding his future with Real Madrid and Juventus thought to be interested. (chats06)
Honours

- 2004/05 UEFA Champions League winner
- 2005/06 European Super Cup winner
- 2005/06 FA CUP Winner
- 2006/07 FA Community Shield Winner
- 2008 European Cup Winner (Spain)
Xabi Alonso Facts
A defect: He is stubborn.
Car: Audi A3, he loves driving.
Languages: Basque, Spanish and English
Dream: He always wanted to win a title with Real Sociedad, he would be have been happy to have shaved his head if it had meant they could win it.
Worst nightmare: an injury
Favourite food: grilled lobster
Least favourite food: olives
Music: Las letras de Sabina, also classics like Nirvana and Queen.
A gold star for: hard workers
Red card for: those who don't respect nature
Other sports: tennis, watching cycling. He also enjoys football with his father and watching highlights on TV.
Strange habit before the games: he always dresses in the same order.
What makes him laugh? Bad jokes.
What makes him want to cry? When life is unfair.
What would he pay for? The assurance of happiness.
- His brother Mikel shares his passion for football. They played together at Real Sociedad during the 02-03 season. Jon, his other brother plays in the youth team.
- He studies business studies, however he says that it's very difficult to combine his studies with playing professional football.
- He likes to spend time with his friends and above all, to go fishing, which he finds very relaxing.
- He is said to be a very calm person and he lives very happily in Liverpool. He doesn't feel his life is ruled by the press.
- One of his favourite films is "The Others".
- For him a must-read is "La ley del desierto" by the Egyptologist, Christian Jaqs. He also likes "La justicia del visir" by Christian Jacq.
- His footballing idols since childhood (apart from his father) are Lotear Mathaus, Fernando Redondo, Ronald Koeman and Pep Guardiola.
- Xabi together with his brothers Jon and Mikel is a footballer which they credit to their father Perico Alonso, the number 4 of Real Sociedad, Barcelona and Sabadell.
- Like his father, Xabi has always felt a special affiliation with Barcelona. His father lived in Barcelona for six years.
- He would like to visit Australia.
- He'd like to return to Ireland.
- He wears 42 shoe size.
- Has a girlfriend, her name is Nagore and she is a year older than him. He recently had a son, whom he named Jonxtu.
Latest articles about Xabi Alonso
LFC Reds: LFC Fan discussions on Xabi Alonso