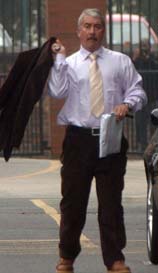 After what seems like endless years of discussion, names being bandied round and frustration at David Moores reticence to depart from his shares, a cash injection at Anfield appears to be getting closer and closer.
Liverpool's board are set to meet again this week, following on from last week's meeting, to discuss investment opportunities supplied by a number of investment firms and individuals.
Talks have centred on the ability of an investor to meet David Moores valuation of the club, believed to be around £300 million, of which he owns 51%.
The American George Gillette, and the Dubai Investment Capital consortium have been linked for some while, meanwhile a group led by the former Oxford chairman Robin Herd have also been linked. The front-runner, according to media sources today, is believed to be Belfast construction tycoon John Miskelly – the man who has believed to have come closest to David Moores valuation. The group led by Robin Herd is believed to be the least attractive option to the club.
The next few weeks will be interesting – David Moores has consistently promised that any investment would need to be 'the right investment'. Whether he will stick by that mantra or sell to the highest bidder remains to be seen. But with January fast approaching, a time that traditionally the reds have tended to keep their cheque-books in their pockets, and the stadium plans having received the official stamp of approval – the reds need their financial future secured.