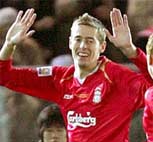 Peter Crouch today insisted that he would not be rocking the Anfield boat and Rafa's rotation policy, while Steven Gerrard and his broken toe will be gambled upon for 90 minutes only.
Peter Crouch, who is alledged to have questioned the rotation policy with Benitez at the weekend, has today spoken of his acceptance of the system. After failing to make the reds squad at the weekend, Crouch was called back up for the reds Champions League qualifier in Toulouse yesterday. Whilst it is clear that Crouch spoke to Benitez about his disappointment, he was clear to play down reports of a major row.
"I was disappointed to miss out on Saturday, so it was good to play on Wednesday," said Crouch.
"The manager explained to me it will be a long season, and he proved what he meant by replacing the two who started on Saturday with myself and Andriy.
"I'm sure he will continue to chop and change, but everyone will play their fair share.
"Everyone knows players want to be playing every game, so when you are geared up all pre-season to play the first game against Aston Villa, of course you don't want to miss out.
"Anyone who was in my position would feel the same. People would be more disappointed in me if I didn't feel disappointed not to play. But what I will say is that whenever I'm called upon I'll be ready, and I hope I proved that in France.
"I've got to prove to the manager on the training pitch and in the games when I get the chance that I should be in the team, but I'm not the type of person who goes off shouting, screaming and knocking down doors. I want to do my talking on the pitch."
Meanwhile, one man who didn't come through the Toulouse game unscathed appears to be Steven Gerrard who has what is described as a 'hairline' fracture of his toe, following a collision with Toulouse's Pantxi Sireix. Intriguingly Rafa appears to be throwing an element of caution to the wind, insisting that Gerrard will play against Chelsea before having a 10-14 day break (inluding an absence from the England side in mid-week).
Rafa said:
"We have confidence he will be available for the weekend; then he must rest. We must manage the risk, and he will play against Chelsea."
"But if he trains and plays more games after that it will be a bigger risk. We know you cannot push a player too much; for one game it is okay – for more it is a risk.
"He will want to play every game, every minute. He will want to play against Chelsea. It is a really important game; we are at home and we want to continue our good start against them, because they are a really top side.
'Risky Rafa' – who would have thought it!