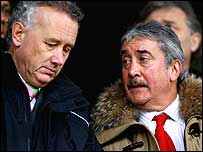 It's a funny state of affairs when the American's head over to see Liverpool play. It's a shame they haven't got the trouser-filling items needed to choose a game at Anfield instead. After all it would have stopped the complete farce of a situation that has been played out in the last two days.
Liverpool FC have been given 20 executive seats by Arsenal at the Emirates stadium tomorrow night.
The American, owners, who asked Arsenal not to be sat together, took all 20 tickets. George and Foster amongst the 4 ticket owning Gillett family, and 16 tickets for Tom Hicks and his gang of cronies.
Poor old Rick Parry, the reds Chief Executive, and David Moores – symbolically made Honorary President of the club in return for underselling the club, were told there was no space for them.
Moores was upset, Parry span the usual
'It will sort itself out'
Anyway, to cut a long story short, Parry and Moores have now managed to blag their tickets off their all-powerful, but ultimately useless, American dictators. Rumours that tickets have been freed by Hicks' backside now taking only 1 seat instead of 3 are unconfirmed.
If you're off to the Emirates tomorrow, make sure your banners or songs embarrass these two clowns. Or should that be four?