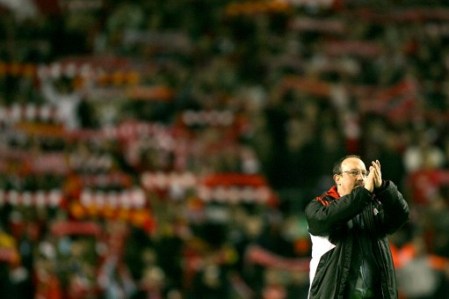 Not content with destabilising last season's campaign, it looks like Liverpool's debt-laden American owners are at it again as Rafa's contract talks have stalled.
Going back to the infamous pre-Stoke press conference Benitez had said:
"My agent has not yet received any documents and is a little disappointed. I was talking with him and he didn't have any news, so he's not very happy."
With the reds riding high and the reds boss understandably looking for some security in his job, it seems the US owners who promised the world then delivered a garden shed are once again slowly turning the spotlight off the pitch and on to the behind the scenes goings on at the world's greatest football club.
It is believed that Benitez does not want to head in to the transfer market this January, however he has wanted clarification in his contract that the club's transfer policy will rest with the manager of the football club.
In recent deals it has been Rick Parry and the club's owners who have had an increasing say on which transfers can and can't happen at Anfield.  The collapse of the Gareth Barry transfer in the summer was believed to be down to the owner's failing to sanction the move on the basis of 'footballing value'.
Whilst we appreciate, regrettably, that the American's do have limited amount of bank money to give Rafa for transfers – it is absolutely imperative that the manager decides which players to buy, and not the suits who know so little about football that they even considered Jurgen Klinsmann for the Liverpool job.
With two important games against Everton ahead, and with Liverpool currently top of the Premier League and in their first title chase for years – we suggest that the two useless owners at least attempt to get something right in their pathetic tenure to date – and get a move on with offering Benitez a substantial Anfield contract.