Fernando Torres today confirmed he is staying with Liverpool Football Club and says he is committed to the club and the fans. This will be a big relief to many reds across the land and most notably, Liverpool manager, Roy Hodgson. Because there is no doubt about it, a fit Torres is a deadly Torres and Liverpool have a huge point to prove this season. Roy Hodgson needs all the deadliness he can get.
This will also be a kick in the teeth for clubs such as Chelsea and Manchester City, who for all their money, are unsuccessful in prizing Liverpools star striker away from Anfield. Because today there was proof that loyalty still has a place in the game. In past transitional periods for Liverpool FC, other players would have turned their nose up at the prospect of working under a new manager in a new era for the club. The money, coupled with the complacent attitude towards success would have been too much of a temptation to leave.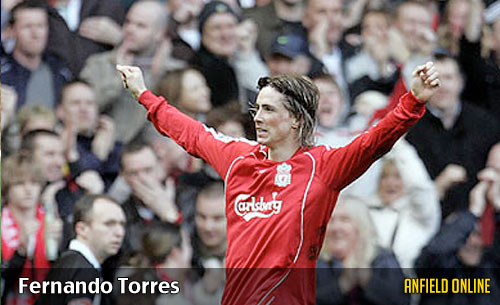 Not with Torres though. Who calls Liverpool FC "the best club in the country". Torres is obviously a player who gets the fans, who gets the club and who wants to win things with a Liverbird on his chest. He could have easily left for a team that doesn't have the unstable foundations off the pitch. He could easily be playing for another club with a lot of financial weight and superstar players to go with it. But he's committed to Liverpool FC and the fight to get back into the top four this season.
Although the World Cup winner still has injury problems ahead of the season opener against Arsenal, Torres is looking forward to working under Roy Hodsgon and is prepared for the challenge that lays ahead.
Torres on working with Roy Hodsgon:
I really appreciated the fact that Roy came out to see me while I was on my holidays. He told me about his plans for the club and what he wanted from me and I appreciated that. I hope he will be the right man to reach the targets of Liverpool Football Club and I am really looking forward to working with him. At the moment I am training just on my own but as soon as I can I will train with the team and with the new manager
Torres on his targets for the season and what the club means to him:
This is the best club in the country so the targets and expectations are always high. Hopefully we can stay at our level. At Liverpool the aim is to fight for every title. It was difficult last season but we are sure we can improve this season. I am really happy to be back, really happy to stay with all my teammates. My commitment and loyalty to the club and to the fans is the same as it was on my first day when I signed. I am looking forward to the challenge ahead. From my first day I got the same welcome as Stevie or Carra or players who have been here for a long time. I felt at home from the first day, I feel the fans love me and everyone knows I am really happy here and really happy to play at Anfield. As I said earlier, I'm looking forward to starting the season and playing with my teammates and for the fans.