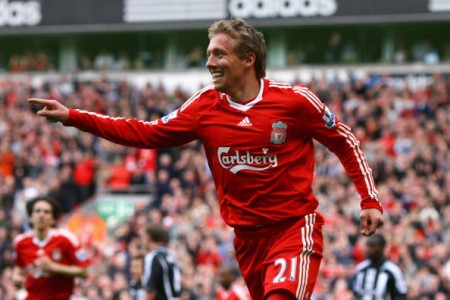 Lucas Leiva has signed a contract extension at Liverpool FC, putting an end to speculation linking him with a cut price move away to Napoli or Villarreal.  Some sections of the media were ablaze with rumours over the weekend, however the man who has now impressed three consecutive Liverpool FC managers will remain with Liverpool.
The 24 year old Brazilian's existing contract was due for expiry next summer, raising the possibility of a summer sale, but Comolli and Dalglish have moved swiftly to ensure the ongoing speculation for the player does not continue.
Speaking to the official site, Lucas said:
"For me it was an easy decision because I know how big Liverpool is and I can see Liverpool are committed to me and are planning for a future with me. The effort from the club was amazing and that makes me feel an important player. That's why it was an easy decision.

"I am really, really happy. The last few weeks have been really good for me and now I have signed a new contract and can spend more years at Liverpool I will do my best all the time and try to help the club to be bigger and bigger, if that's possible.

"Everyone wants to be in the Champions League again and to win titles. That is what Liverpool is about. The way everything is going I think it will be a very good next few seasons.

"We have some new players who have come here and that shows we are moving in the right direction. I am pleased with the way Liverpool tried to keep me and now I want to keep doing my best for them.

"I don't think people thought I could stay here for so long, but now I want to just keep on improving."
Director of Football, Damien Comolli added:
"One of the first things I did after I arrived was to look at the contract situation and to see where Lucas was at. I knew we had to do something quickly because we couldn't afford to lose him and didn't want to lose him.

"If you look at his playing record he started 46 games last year in all competitions and this year it will be between 45 and 50. He is exactly what we want. He has the right mentality, quality and attitude. He understands what this club is all about and even though the discussions went on for quite a long time he always said to me 'I want to stay and we need to find a solution'.

"Considering his performances on the pitch with us and with Brazil, and his attitude around the place – off the pitch he's a great professional, totally committed and dedicated and it's always team first when you speak to Lucas – that's why we wanted him to stay. The celebration at Sunderland with the players after he'd had his baby shows that the other players were very happy for him and shows he is a team player.

"He could have gone to many clubs because he is highly rated around Europe, but he always said he wanted to play for Liverpool."
Current caretaker boss Kenny Dalglish said:
"We are delighted.

"He is a smashing lad to have around the football club but he hasn't been signed for that, he has been signed because of what he does on the pitch. Certainly since I came in he has been a great asset to the team and has done tremendously well.

"He's got wee Pedro to look after and now a new contract as well, and we're delighted for him because he's a really honest, genuine fella and that's reflected in the way he plays.
Initial reports suggest that the player has been given a 4 year contract extension keeping him at Anfield until 2016.