FA Cup 5th Round
Saturday 16th February 2008 @ 3pm
Anfield
For a bunch of players representing English football's most succesful club side, and pocketing tens of thousands of pounds a week for the privelige, to be knocked out of the FA Cup at home to a group of players who in theory shouldn't be worthy of lacing their boots is more than humiliation.  Liverpool's under-performing players are now putting in such guile-less performances that the crest ought to be removed from some of their shirts.
Dirk Kuyt may have celebrated his opening goal with aplomb, but the fact is that it is too little, too late, and the Dutchman certainly does not deserve to wear the red of Liverpool.
Barnsley were full of passion and determination, but so were Luton, so were Havant.  Is it too much to ask that Liverpool play with a bit of passion and determination too?
The reds were caught by the sucker punch winner in stoppage time, but it really should never have come to that.
Liverpool had their chances but despite the Barnsley keeper being hailed as some sort of Messiah it really should never have got that far.  The reds can bemoan missed chances, bad luck etc but we've heard it too many times from them this season.
So on to the fairytale FA Cup ending….
Brian Howard, the Barnsley captain, scored a great goal in front of the Kop 30 seconds before the whistle blew and the reds were out.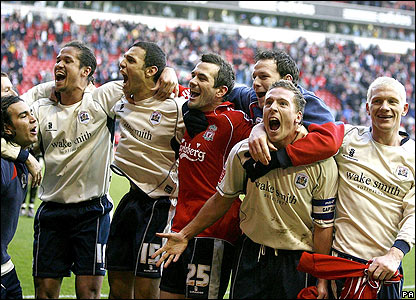 Team News
Liverpool: Itandje, Finnan, Carragher, Hyypia, Riise, Benayoun, Lucas (Gerrard 75), Alonso, Babel (Kewell 69), Kuyt, Crouch.
Subs Not Used: Martin, Pennant, Arbeloa.
Booked: Alonso, Carragher.
Goals: Kuyt 32.
Barnsley: Steele, Hassell, Souza, Foster, Kozluk (Van Homoet 60), Devaney, De Silva, Howard, Leon (Campbell-Ryce 71), Ferenczi, Nardiello (Odejayi 55).
Subs Not Used: Coulson, Togwell.
Booked: Van Homoet.
Goals: Foster 57, Howard 90.
Att: 42,449
Ref: Martin Atkinson (W Yorkshire).
Quick Links
Updated LFC Stats