The old adage remains, as has been shown three times in the past six days - Liverpool do not know when they are beaten.
And so it proved again, with another sensational comeback from Jurgen Klopp's machine.  Heading into the 87th minute the reds had trailed 1-0 for over an hour.  Was the 10 month long unbeaten run about to come to a juddering end at newly promoted opposition?
Eight minutes later the final whistle blew and the reds left the field jubilant, 2-1 up with all three points.  An incredible turnaround.
Although Liverpool had seen plenty of the ball, and had plenty of chances throughout the game, it was hardly the reds most perfect performance.
Line up
Klopp returned his line up to a more traditional look following the changes in midweek for the League cup win over Arsenal.
However, Adam Lallana was preferred in midfield over subsitute Fabinho.  This decision prompted by Fabinho's disciplinary record - another yellow card would have ruled him out of next weekend's home game against Man City.
Mo Salah returned to the reds line up, although he endured a difficult day and was eventually replaced up front by Divock Origi.
Villa, primarily through the excellent John McGinn, had shown energy and desire hosting Liverpool at their ground for the first time in over 3 years.  And they had a moment of danger early on when Targett's cross beat all the Liverpool defence, and fortunately all of the Aston Villa attack too.
They went ahead after twenty minutes when John McGinn's ball in saw a sea of claret flood forward, and Trezeguet fire in.  VAR replays showed him to be level and it was 1-0.
Before half time, Liverpool thought they had levelled.  Roberto Firmino putting the ball in the back of the net, but the flag went up.  It went to VAR and Martin Atkinson, today's senior video assistant referee, took a look at the decision.
Offside he stuck with.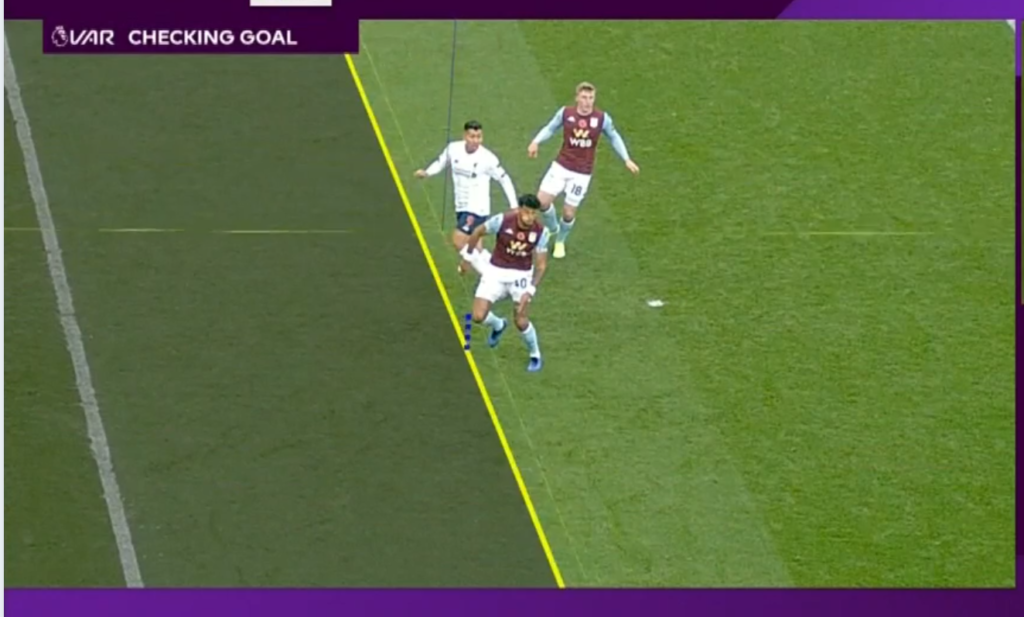 The Premier League rushed out an interpretation ten minutes later, suggesting that Roberto Firmino's 'armpit' had been offside.  Seriously.
Liverpool had to limp into half time and lick their wounds.
Chances increased in the second half, as did domination, but Villa were performing resolutely.  They were also helped by some poor finishing from the reds with the likes of Lovren, Alexander-Arnold and more numerous Mo Salah aiming shots everywhere but on target.
Virgil van Dijk was called into action as the pace picked up in the final 10 minutes, as his quick thinking and interception denied El Ghazi an almost certain second Villa goal.
The poorer performers were gradually replaced as the game reached its climax.
Oxlade-Chamberlain for an anonymous Wijnaldum, Origi for the misfiring and questionably fit Salah.  But it wasn't until the final replacement of Keita for Lallana in the 86th minute that the reds began their comeback.
A minute later, Andy Robertson headed in a delicious Sadio Mane cross to end the risk of a dismal defeat.
The board went up.  5 minutes injury time.
Mid-way through it Alexander-Arnold placed the ball inside the D for a direct free kick.  Would this be the moment on his 100th Liverpool appearance?
The free kick was deflected over for a corner.
And from the corner it arrived unopposed for Sadio Mane to glance in the head and begin wild celebrations amongst the travelling supporters.
Second later the whistle blew and the reds move on to 31 points, with a 6 point lead over their nearest challengers Man City whom they play at Anfield next weekend.
A big win for Liverpool, but reds fans will be hoping that the habit of going behind in games has now run its course.
Next up for Liverpool, Genk at home in the midweek Champions League.