Steven Gerrard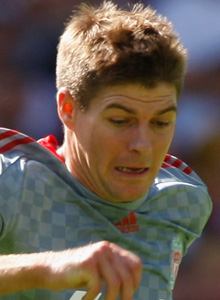 LFC Profile and Statistics
Midfielder
(Centre)
Full Name:
Steven George Gerrard
Born:
30th May 1980 in Whiston, England
Age:
41
Bought:
30th May 1996 from LFC Youth System
Transfer Fee:
Free
Sold:
1st July 2015 to LA Galaxy
Fee Received:
£1
All LFC Appearances:
710
LFC Goals:
185
Career Appearances:
710
Career Goals:
185
England Appearances:
113
Goals:
21
Previous Clubs:
Steven Gerrard Profile
Liverpool's captain Steven Gerrard was always destined to play for his boyhood club. He has everything you need to be a top class footballer. After impressing as a trainee at Liverpool he signed a professional contract at the age of 17 and within in twelve months he had made his first team debut.

In the coming years, the promising Whiston born lad, was plagued with injuries to his back and groin, caused by his body's growing pains. He got over the worst of the injuries and by the year 2000 was establishing himself as one of the country's finest prospects. Kevin Keegan confirmed this when he handed Stevie his first international cap against Ukraine in 2000. His international career continued to blossom and was included in Keegan's Euro 2000 squad.

As his own career started to rise, his trophy cabinet began to bulge after helping Liverpool to the famous treble of 2001 and picking up the PFA Young Player of the Year award as well. Gerrard's status on the domestic and international stage rose even higher after his first goal for England in the 5-1 hammering of Germany in Munich to help Sven Goran Eriksson's side progress to the 2002 World Cup but injury hit Gerrard again and he was forced to miss out on what should have been his first World Cup. Silverwear continued on the domestic front though as Stevie scored the opening goal in the 2003 Worthington Cup success against Man United.

2004 saw Gerrard receive the biggest honour of his footballing life when he was given the captain's armband at Anfield and not long after he captained England for the first time in a match against Sweden. By this time Gerrard had also been given the number 8 jersey at Anfield, a number that former legends like Hunt and Aldridge had worn.

2005 saw Steven Gerrard cement himself as arguably Liverpool's greatest ever player. The season started with a new manager but nothing changed in our skipper. With only seven minutes remaining between Liverpool Football Club going out of the Champions League at the group stage or progressing into the knockout stages up stepped Steven Gerrard. His goal against Olympiakos with time running out is still one of the biggest goals in the club's history. We desperately needed the goal but the one in Istanbul might have outdone even that goal. 3-0 down at half time but our leader wouldn't let us lie down and submit, he led from the front and his goal pulled us back into the match. His rally cries dragged Liverpool up and onto success in Istanbul. Steven Gerrard could finally hold aloft the Champions League. He also won UEFA's Most Valuable Player award in the same year.

People might say lightning doesn't strike twice but in Steven Gerrard's case it does. 12 months later and again Liverpool were dead and buried this time in the FA Cup final against West Ham. But one man wasn't buried and again up he stepped to smash in two rockets and keep our fight alive. At the end of the match, Gerrard held the FA Cup in his hand and knew this was his final. He had now scored in every major cup final he possibly could at club level. This was his best goalscoring season as well, a fantastic 23 goals in all competitions. Though the accomplishments didn't stop there, he won the PFA Player of the Year as well this year. In 2006 he also managed to top England's goalscoring charts in his first World Cup.

Before another Champions League final in 2007 our influential skipper had broken Ian Rush's goalscoring record in the European Cup, Gerrard's goal against PSV was his 15th, a club record. Steven Gerrard MBE is now his official title after receiving an MBE in 2006.

Gerrard has went onto captain England on several more occasions, most noteably the 3-2 defeat to Croatia which saw the Three Lions fail to qualify for Euro 2008 but this was after a season where Gerrard had scored an impressive 21 goals for Liverpool throughout the season.
Profile by Billy Green
Latest articles about Steven Gerrard
LFC Reds: LFC Fan discussions on Steven Gerrard
Steven Gerrard gifts to buy